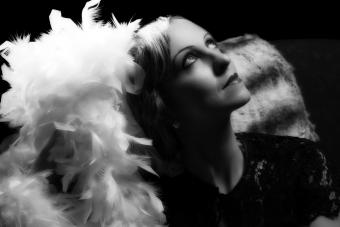 In 1974, Diana Vreeland organized an exhibition at the Metropolitan Museum of Art, devoted to studio designs. The exhibition's title, Romantic and Glamorous: Hollywood Style, sums up perfectly the way in which traditional "Hollywood style" is perceived. It is seen as synonymous with glamour and opulence. Vreeland emphasized this in the exhibition's catalog: "Everything was larger than life. The diamonds were bigger, the furs were thicker and more luxurious … silks, satins, velvets and chiffons, miles and miles of ostrich feathers … everything was an exaggeration" (p. 5).
Certainly this is true of archetypal "Hollywood style." But, arguably, there is another important factor-the way in which cinema can be used to sell most products and, in particular, to disseminate new fashions. As Charles Eckert argues, Hollywood gave consumerism its "distinctive bent"-it influenced the way men and women wanted to look, as well as the cars they chose to drive, and the cigarettes they decided to smoke. Gradually, this influence became globalized.
This potential power was not immediately perceived. However, as early as 1907 there was widespread public interest in the rumored disappearance of Florence Lawrence, the "Biograph Girl." A desire to know about the private lives and off-screen activities of the first identifiable stars was apparent at an early stage.
With the identification and growing popularity of stars such as Mary Pickford, Gloria Swanson, and Irene Castle before, during, and after World War I, women began to see the star "image" as something to emulate. During the radical sartorial changes that took place in the 1920s, Hollywood was a vital part of the process through which it became both desirable and socially acceptable for women to wear makeup, after a century of taboo. The carbon lighting of early films meant makeup was a necessity-pink cheeks became gray and skin bleached. Max Factor, a makeup artist for the Moscow State Theatre, arrived in Los Angeles in 1908, and by 1914 he had perfected a product called Supreme Grease-paint for all the studios, along with newly developed eye shadows and pencil liners. This product was packaged in a compact tube and manufactured in several colors, and in a very short time he was selling directly to the public, for it was the faces of the stars that had the most impact on the public at this early stage.
Clara Bow was the first star that women set out to imitate, copying her "Cupid's bow" mouth and penciled brows. Furthermore, her bobbed hair made the new cuts desirable. Bow portrayed the sort of girl who, although unusually pretty, was not too far removed from the world of her female fans.
This kind of popularity with a female fan base meant that a star could popularize not one, but several fashions. Just as in the next decade Garbo would make berets, trench coats, and men's pajamas simultaneously desirable, so Clara Bow persuaded women to shorten their skirts, bare their legs, and adopt the cloche hat, which had been in fashion for some time. And in 1928 Jean Harlow, the "Platinum Blonde," prompted many women to experiment with peroxide; hence, safe home hair dyes were swiftly produced. Harlow also made a Paris fashion popular-the backless, bias-cut dress she wore in Dinner at Eight (1933) was instantly copied.
Retailing Tie-Ins
Hollywood studios were beginning to appreciate their power. The studio system, which lasted until the 1950s, meant that stars and costume designers were under contract to a particular studio, which could profit from their work. The studios owned distribution rights in cinemas across America, and it was easy to export Hollywood films, first to Europe and later worldwide, despite the existence of national cinemas elsewhere. In the early 2000s, despite the vast size of the Hindi film industry, American cinema was still dominant.
The fashion industry had been swift to recognize the commercial possibilities of the cinema-in 1923 Salvatore Ferragamo, founder of the firm, provided every single pair of sandals for The Ten Commandments. Couture designers became involved-Paul Poiret designed the clothes worn by Sarah Bernhardt in Elizabeth I (1912) and Sam Goldwyn lured Chanel to Hollywood. Meanwhile, the studios, becoming aware of the appeal of the costumes designed by Adrian and his peers, worked speedily to prevent unauthorized copying and to maximize profit.
In 1930 the Movie Merchandising Bureau was established, and Macy's had a Cinema Shop. During the 1930s different studios would issue their own licenses, so that by the end of the decade there were various different retail outlets within department stores across America. This was the age of the "tie-in," when promotional campaigns linked to particular films were highly successful-window displays featured not only clothes and accessories from a particular film but also other themed goods. Queen Christina (1933), for example, was used to promote "hostess gowns" and Swedish flatware.
The fan magazines were at the height of their popularity-and discussions raged in their pages. Dorothy Lamour conducted a dialogue with her fans as to whether or not she should make another "sarong" film. In fact, she would always be associated with this garment, designed for her by Edith Head-and now a wardrobe staple. At the same time, glossy magazines were debating the question of whether Hollywood could lead fashion, or merely follow Paris.
Gone with the Wind (1939) influenced bridal wear for decades-and it was suggested that Dior had the popularity of the film's costumes in mind when he created the New Look. The decade had also made lingerie an enormously profitable business through the slips, negligees, and marabou slippers seen on screen.
The Postwar Period
The influence of Hollywood did not end in 1939-and included body shape. The busty stars of the 1950s meant enormous profits for the underwear industry, and Marilyn Monroe was arguably the most influential star of all time, as women sought the different components of her "look."
With the emulation of Marlon Brando and James Dean in the 1950s, and the gym culture, which resulted from the sight of well-muscled male bodies in the action pictures popular from the 1980s onward, it seems that men in the postwar period have been more influenced by Hollywood than ever before. Men's wear designers responded quickly, and continue to remain heavily involved. Ralph Lauren's designs for Robert Redford in The Great Gatsby (1974) were not as heavily covered in the press as his women's wear for Diane Keaton in Annie Hall (1977). However, it had been clearly demonstrated that a mainstream Hollywood film could be used to showcase clothes not unlike those in the designer's current ready-to-wear range, and Armani was the first to manipulate this opportunity by dressing Richard Gere for American Gigolo (1980); Cerruti followed his lead by dressing Michael Douglas for a number of influential films in the 1980s, including Wall Street (1988). Much of what we wear is a legacy of Hollywood-trousers for women, tennis shoes for everyday, leather jackets, jeans, and T-shirts. Yet some designers were never convinced-Elsa Schiaparelli complained that Joan Crawford's shoulder pads were copied from her collections and that Adrian had simply stolen the concept. Vivienne Westwood's one foray into cinema-she designed the collection supposedly produced by Richard E. Grant in the box-office debacle Prêt-à-Porter (1995)-has obviously made some other designers wary of involvement. But attempts to use film as a way of presenting new ideas continue; Uma Thurman's yellow trainers for Kill Bill (2003) did not impress audiences, but Samuel L. Jackson's Kangol beret in the same hue, worn in Jackie Brown (1997) meant that their already buoyant sales figures virtually doubled.
See also Actors and Actresses, Impact on Fashion; Film and Fashion.
Bibliography
Bruzzi, Stella. Undressing Cinema: Clothing and Identity in the Movies. London: Routledge, 1997.
Eckert, Charles. "The Carole Lombard in Macy's Window." In Fabrications: Costume and the Female Body. Edited by Jane Gaines and Charlotte Herzog. London: Routledge, 1990.
Fox, Patty. Star Style: Hollywood Legends as Fashion Icons. Santa Monica: Calif.: Angel City Press, 1999.
Maeder, Edward. "Hollywood and Seventh Avenue." In his Hollywood and History: Costume Design in Film. Los Angeles: Thames and Hudson, Inc., 1987.