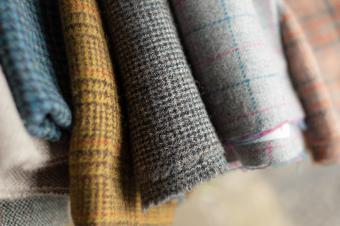 Tweed, made from wool and wool mixtures, comes in a phenomenal range of color and weave effects. Originally tweed was made only in the twill weave or variations of that structure. It is debatable whether the name tweed originated from a misreading of an order for tweel (Scottish for twill), or whether the cloth is named after the Tweed river in the Borders region of Scotland. However, it is certain that tweed originated in the Scottish woolen industry of the early nineteenth century, where locally crafted woolens were transformed into fashion textiles woven in a factory and sold to national and international markets. This shift of the late 1820s was partly precipitated by the adoption of the black-and-white shepherd's check as a fashionable cloth for men's trousers in the late 1820s.
Trade journals of the period, such as Textile Manufacturer, indicate the reputation of Scotch tweed for high aesthetic appeal and quality of manufacture. Interestingly for a branch of the nineteenth-century textile industry renowned for the production of constant novelty and variety in design, the bulk of their cloth was designed for menswear. The origins of the Scottish tweed industry and its success from the 1830s were largely driven by the consumption of cloth for sporting and leisure wear. However, the range of cloths produced including Saxonies, Cheviots, and homespun tweeds and the increasing tendency towards informality in male dress meant that by 1900 tweed was also widely worn within a variety of urban contexts, mainly as overcoatings, trouserings and suitings. Saxony tweeds are fine and densely woven and have a soft, smooth handle. They are made from merino wools and the finest versions are indistinguishable from worsted cloths. Cheviot tweeds have a rougher appearance and more open texture than saxonies, although the lighter-weight versions were widely used as suiting and trousering cloths in the late nineteenth century. The popularity of tweed as a fashionable menswear cloth continued into the twentieth century; however, along with tailoring, it went into relative decline from the 1970s onward.
Important Tweed Patterns
Late nineteenth-century tweed patterns include two that are among the few seminal textile designs that have been repeatedly used in both men's- and women's wear since the mid-nineteenth century. The first of these is the Glen Urquhuart, a black-and-white check that originated in the early 1840s and which, with the addition of a red or blue over-check, has widely and erroneously been known as the Prince of Wales check. In the United States, the term Glen plaid was used to describe this sporty but elegant cloth, particularly popular from the 1930s to 1960s for men's suitings. The Coigach, which Johnstons of Elgin trace in their records back to 1846, also became widely known throughout the trade. This black-and-brown check, a variation on the simple shepherd's check, was subsequently adopted in the 1870s by a gun club in America, which led to its being universally known as the gun-club check.
"The products of Scottish woolen looms after 1830 were identifiable by three design character-istics-skillful use of color, employment of pure virgin wools, and uniqueness of texture. These factors, combined in a carded cloth, gave tweed its quality and distinctive appearance." (Clifford, p. 75)
Expansion and Imitation
The international reputation for design of the Scottish mainland tweed industry led by the late nineteenth century to many imitators and competitors. These included those based in Yorkshire, Ireland (Donegal tweed), and the islands of Harris and Lewis in the Outer Hebrides of Scotland. The Yorkshire woolen manufacturers were among the first to use Scotch-tweed designs as a basis for making cheaper novelty cloths aimed at the mass market. Yorkshire tweeds thus tend to be defined by their place of manufacture, rather than by any distinctive visual characteristics. The Harris-tweed industry was established from the 1880s on the islands of Harris and Lewis, through coordination of the efforts of local hand weavers. This coarse-textured, homespun tweed has survived many difficult periods to be championed in the late twentieth century by the designer Vivienne Westwood, whose logo is closely related to the Harris-Tweed Orb label. Donegal tweed also developed in the late nineteenth century and again principally involved hand-woven cloths. Its characteristic salt-and-pepper effect initially came simply from the use of natural undyed wool, until cooperation with the Harris-tweed dyers generated more complex designs.
Tweed in Women's Wear
From at least the early 1860s, women adopted tweed for outer garments such as jackets, cloaks, paletots, and coats, despite the fact that tweed was predominantly a men's wear cloth. The increasing participation of women in sports, such as countryside walking, shooting, and, later, cycling, led in the 1870s to the development of the tailored costume. This featured a matching jacket and long skirt that were generally made from some form of tweed. By 1900, the tailored costume had become accepted as informal or sporting wear for women of all classes, despite its earlier connotations of "mannishness" and feminism. The tweed industry, however, did little at this period to adapt its designs for women, other than to make them in lighter weights of cloth.
In the early twentieth century, British couturiers, such as Digby Morton, Hardy Amies, and Charles Creed, helped to stimulate international markets for superbly tailored tweed suits. The French couturier Coco Chanel was also inspired to include it in her collections after traveling to Scotland on a fishing trip with the Duke of Westminster in the 1920s. Her desire to include tweed in her exclusive designs was such that the Duke subsequently bought her a Scottish tweed mill. Linton Tweeds of Carlisle in Northern England has maintained an exclusive relationship with the House of Chanel since 1928. Tweed has since become an integral element of the signature suits that are endlessly reinvented by the House of Chanel.
Contemporary tweed manufacturers aim to maximize the potential of international markets for "traditional British style" and also to promote their links with the more volatile consumers of radical, innovative fashion. Tweed retains traces of its earlier history in the present, on the one hand as remaining representative of British class and conservatism. However, it also exists as an ephemeral fashion textile that contributes to the rapidly changing visions of designers such as John Galliano at Dior, Alexander McQueen, and Vivienne Westwood.
See also Gabrielle (coco) Chanel; John Galliano; Alexander Mcqueen; Scottish Dress; Vivienne Westwood.
Bibliography
De la Haye, Amy, and Tobin Shelley. Chanel: The Couturiere at Work. London: V & A Publications, 1994.
Gulvin, Clifford. The Tweedmakers: A History of the Scottish Fancy Woollen Industry, 1600-1914. Newton Abbot, U.K.: David and Charles, 1973.
Harrison, E. P. Scottish Estate Tweeds. Elgin, Scotland: Johnstons of Elgin, 1995.
Henry Ballantyne & Sons Ltd. London: Biographical Publishing Company, 1929.
Hoad, Judith. This is Donegal Tweed Co. Donegal, Ireland: Shoestring Publications, 1987.
Ponting, Kenneth. "The Scottish Contribution to Wool Textile Design in the Nineteenth Century." In Scottish Textile History. Edited by John Butt and Kenneth Ponting. Aberdeen, Scotland: Aberdeen University Press, 1987.
Taylor, Lou. "Wool Cloth and Gender: The Use of Woollen Cloth in Women's Dress in Britain, 1865-85." In Defining Dress: Dress as Object, Meaning and Identity. Edited by Amy de la Haye and Elizabeth Wilson. Manchester, U.K.: Manchester University Press, 1999.
Textile Manufacturer 15 (January 1878): 2.