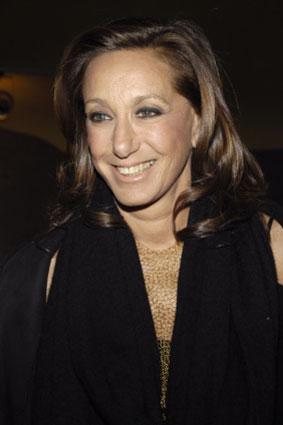 Donna Karan (1948- ) was born Donna Ivy Faske in 1948 in New York City. Her father, Gabby Faske, was a custom tailor who died in a car accident when Donna was three years old. Her mother, Helen Faske, had been a showroom model turned fashion sales representative. Helen's second husband was Harold Flaxman, who was also involved in the garment business. The family moved to Long Island after the marriage. By the time Karan finished high school, she had already staged her first fashion show. She attended the Parsons School of Design for two years, leaving at the age of nineteen to work for the ready-to-wear designer Anne Klein. Klein fired Karan in short order, but rehired her two years later. When Anne Klein died of cancer in 1974, Karan was put in charge of Klein's Seventh Avenue sportswear company at the age of twenty-six, just days after having given birth to a baby girl.
Tenure at Anne Klein
During Karan's decade-long tenure as head designer, she built Anne Klein into the most profitable sportswear company in the United States. She launched Anne Klein II, a so-called bridge line of clothes priced slightly lower than the signature collection and meant for the working woman. So successful was the concept that the company's financial backers, Tomio Taki and Frank Mori, invested $10 million in working capital for Karan to start her own collection. She turned over the reins at Anne Klein to her assistant, Louis Dell'Olio, in 1984.
Her Own Label
Long since divorced from Mark Karan, the father of her ten-year-old daughter, and remarried in 1983 to her business partner Stephan Weiss, Donna Karan set out to "design everything I needed, so I wouldn't have to think about it anymore" (Agins, p. 145). To this end, she devised a sophisticated twist on the mix-and-match concept and called her line Donna Karan Essentials. It consisted of a bodysuit, tights, dress, skirt, jacket, pants, and accessories-"seven easy pieces" meant to be replaceable with minimal updating. It was a modern way of dressing designed to go from day to evening, pack easily in a travel bag, and be ready to wear at a moment's notice.
"I don't like fashion," Karan once said. "To me, it's the woman, the body." She described herself not as a fashion designer but as a "doctor for women's problems." She added, "In all the chaos I live in, I always want to create calm." In the 1980s, a time when many professional women in the United States were dressing in pinstriped power suits and collared silk blouses with bows at the neck, Karan provided an attractive alternative. Her system of dressing was based on a cashmere bodysuit, on top of which could be layered silk body blouses, sweater-like jackets, unconstructed blazers, and easy-fitting skirts or trousers. "I have seen women transform themselves when they put on her clothes," said Kal Ruttenstein, fashion director of Bloomingdale's department store. "They make you look sexy and strong, a rare combination."
Inspiration
In addition to answering her own needs and those of many other women, Karan drew inspiration from the pace and attitude of New York City, naming her collection Donna Karan New York. Soon the label included fragrance and beauty products, a men's collection, a children's line, and a home furnishings collection. In 1989 she launched DKNY, a casual line of less expensive, more youthful fashions. Designed by Jane Chung but overseen by Karan, DKNY also quickly expanded to include a wide range of licensees.
Acquisition
The company was publicly traded on the New York Stock Exchange for the first time in 1996. In April 2001 Donna Karan New York was acquired for $643 million by the French luxury goods conglomerate Moët Hennessy Louis Vuitton (LVMH). What was then known as Donna Karan International had over eighty freestanding Donna Karan and DKNY retail locations worldwide, including the original two stores in London and three in New York City. Karan has been a six-time winner of awards from the Council of Fashion Designers of America.
See also Seventh Avenue; Sportswear.
Bibliography
Agins, Teri. "Woman on the Verge." Working Woman, May 1993, p. 145.
Horyn, Cathy. "Review/Fashion; Up Close and Personal: Karan, Kors, Rucci." New York Times, 25 September 2001.
Donna Karan. DKNY: Soul of the City. New York: Universe, 1999.
Singer, Sally. "Love Story." Vogue, September 2001.
Sischy, Ingrid. Donna Karan: New York. New York: Universe Books, 1998.