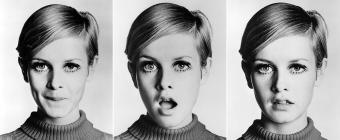 In 1949 Lesley Hornby, later rechristened "Twiggy," was born in Neasden, an unfashionable suburb in North London, where she grew up. Only sixteen when she began modeling in 1966, she introduced the cult of the "celebrity model" and left an indelible legacy in other, more significant ways. Models in the 1950s, in both America and Britain, were styled and made up to look mature, sophisticated, and "ladylike," to complement the fashionable clothes of the time. In England many were young women from respectable families who had followed a modeling course at Lucie Clayton's Modeling and Grooming School in Mayfair. In America, such top models as Suzy Parker were also well-groomed girls from middle-class backgrounds. New photographic techniques allowed mass-circulation newspapers and magazines to print high-fashion images, and the models' names soon became familiar to the public.
New Designs Require New Models
The social and demographic changes that followed created need for new designs and new models. Mary Quant's clothes for Bazaar were aimed at a young clientele, while the early 1960s saw the opening of innumerable boutiques in London, which, unlike Quant's shop, were intended for girls of far more limited means. The first model whose image reflected this climate was Jean Shrimpton. Although she had attended Miss Clayton's school, her success was a result of the partnership she had formed with the working-class photographer David Bailey. The early pictures, which made them both famous, showed off her youth and her tomboy persona.
Discovery
Lesley Hornby was working as a hairdresser in a salon near her home when an older man recognized the way in which she might personify the new London. Nigel Davies, a former boxer and stallholder, who called himself "Justin de Villeneuve," changed her name and transformed her appearance; it was at his suggestion that she painted on eyelashes under her eyes so as to resemble a porcelain doll and had her hair cut short. The photographer Barry Lategan took a picture for the salon, and, by chance, the fashion editor Deirdre McSharry saw it. In the February 1966 issue of the Daily Express, she used a center spread to portray this "Cockney Kid'' as "the Face of '66." One of the shots showed Twiggy wearing homemade trousers and sweater, which accentuated both her androgynous appearance and her democratic appeal.
Style
She was smaller than most models and invariably posed so as to emphasize her childlike qualities. In 1967 she was photographed for British Vogue by Ronald Traeger, who portrayed her riding a miniature bike in knee-high socks. Cecil Beaton sat her on a high shelf, and Helmut Newton asked her to jump toward the camera with arms outstretched. There followed a shoot with Richard Avedon and a cover for American Vogue in August of that year. At one point she was on twelve covers simultaneously; as a model, she was used by both traditional "glossies" and new, youth-oriented publications.
Retirement
Although the syndication of her name to dresses, dolls, and other merchandise meant that she could retire from modeling by 1969 to pursue a career as actress and singer, she had permanently changed magazine culture. Now, to the deification of youth was added the idea of instant fame, the notion that class barriers that could be painlessly transcended, and the problematic pursuit of a pre-pubescent ideal of beauty.
See also Fashion Photography; Fashion Magazines; London Fashion; Mary Quant.
Bibliography
Aitken, Jonathan. The Young Meteors. New York: Atheneum, 1967.
Green, Jonathon. All Dressed Up: The Sixties and the Counter-culture. London: Jonathan Cape, 1998.
Levy, Shawn. Ready, Steady, Go! The Smashing Rise and Giddy Fall of Swinging London. New York: Doubleday, 2002.
Melly, George. Revolt into Style: The Pop Arts in Britain. London: Allen Lane, 1970.
Twiggy. Twiggy: An Autobiography. London: Hart-Davis, MacGibbon, 1975.